Contact us
Shield Concierge
Phone:
(855) 747-5800
7:00 a.m. to 7:00 p.m., Pacific Time
Monday through Friday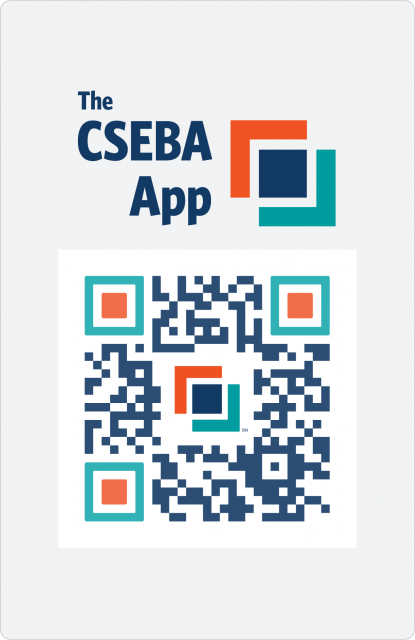 Check out the new 2022 plans and programs!
Find information on:
The NEW Rx Spectrum pharmacy benefit
Value-based benefits with PPO and Tandem PPO plans
myStrength – available through December 31, 2022 – with Trio HMO, Tandem PPO, Access+ HMO and PPO plans
Mental health benefits
How to access your plan information
How to get your questions answered
Scan the CSEBA QR code for more information!
Blue Shield will cover most diagnostic and screening COVID-19 tests ― including over-the-counter at-home tests ― at no out-of-pocket cost to you.
This means you do not need to pay out-of-pocket costs (copay, coinsurance, or deductible) for most diagnostic and screening COVID-19 tests. This will last as long as these state and federal mandates for testing coverage are in place:


Open Enrollment resources
How to choose the right plan for you
We know that selecting a new plan can feel overwhelming. Browse our health plan selection questions below to guide yourself through the process.

Need a 1-on-1 consultation to discuss a complex health coverage question?
Schedule an appointment with a knowledgeable Blue Shield representative at your convenience.
Our Trio HMO plan:
Has no deductible, just fixed copays
Is typically more affordable than other plans
Features a select network of local providers who closely coordinate your care
Offers a concierge service to help you with everything from benefit questions to scheduling doctor's appointments
With our Access+ HMO® plan you will:
Only pay a fixed copayment for most services
Be asked to select a primary care physician (PCP) to coordinate your care and refer you to specialists and hospitals within their medical group.
The PPO plan allows you to:
See any doctor you choose for most services.
Self-refer to specialists.
Usually pay less for services that are provided by PPO network providers.
Pay a copayment or coinsurance for most services after the plan's deductible has been met.
Our Tandem PPO plan:
Offers the flexibility of a PPO plan but is typically more affordable due to a select network of providers.
Includes over 65% of doctors and 90% of hospitals from our broad PPO network.
Offers concierge support services to help answer your questions about benefits, claims, and more.
Our virtual assistant is available to help you find a provider.

Do you need your primary care physician's (PCP's) ID number? Once you find your PCP, select the More info button.
Programs in the spotlight
Get help staying healthy during these challenging times
View our Wellvolution® webinar recordings to learn how to boost immunity, use food as medicine, take control of your health, and much more. You'll get the inside scoop from doctors, nutritionists, and health coaches.

Wellvolution® , our digital platform for health and well-being, also offers over 50 tested apps and programs to help you achieve your health goals – at no extra cost.
Mental Health benefits
One of the most important factors in addressing your mental health is finding a clinician you trust when and where you need it.
Your Blue Shield health plan provides coverage for
mental health or substance abuse care
in-person or where ever you are using your smartphone, tablet, or computer – all within the privacy of your own home.
* These discount program services are not a covered benefit of your Blue Shield of California, Blue Shield of California Life & Health Insurance Company (Blue Shield Life), or self-insured health plan, and none of the terms or conditions of the Blue Shield, Blue Shield Life, or self-insured health plan apply. The networks of practitioners and facilities in the discount programs are managed by external program administrators, including any screening and credentialing of providers. Blue Shield does not review the services provided by discount program providers for medical necessity or efficacy, nor does Blue Shield make any recommendations, representations, claims, or guarantees regarding the practitioners, their availability, fees, services, or products. Some services offered through the discount program may already be included as part of the Blue Shield plan covered benefits. Members or self-insured plan participants should access those covered services prior to using the discount program. Members or self-insured plan participants who are not satisfied with products or services received from the discount program may use the grievance process described in their Evidence of Coverage, Disclosure Form, Evidence of Coverage and Disclosure Form, Benefit Booklet or Certificate of Insurance/ Policy. Blue Shield reserves the right to terminate this program at any time without notice.

Wellvolution is a registered trademark of Blue Shield of California. Wellvolution and all associated digital and in-person health programs, services, and offerings are managed by Solera, Inc., a health company committed to changing lives by guiding people to better health in their communities.

NurseHelp 24/7 and LifeReferrals 24/7 are service marks of Blue Shield of California.